Top Ranked Leadership Through Personal Branding
For consecutive years Callosum has ranked Southwest Airlines as a favorite when referencing creative and effective corporate personal branding campaigns. As a result, it comes as no surprise to us that Chief Executive has ranked Southwest Airlines fifth among the "40 Best Companies for Leaders 2012: How Top Companies Excel in Leadership Development."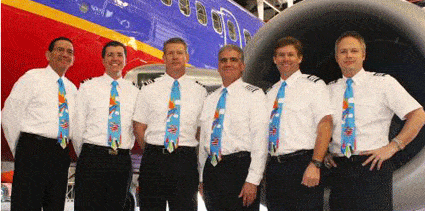 The top five companies for strong brand equity and leadership are: 1) Procter & Gamble;  2) IBM;  3) GE;  4) 3m and  5) Southwest Airlines. Ranking used to determine the 40 best companies is based on four different criteria and taken from a sample size of about 1,000 firms worldwide. The criteria are as follows:
"Having a formal leadership process in place.
The commitment level of the CEO, as measured by the time and quality of involvement with the leadership process and development program.
The depth of the leadership funnel as measured by the percentage of senior management positions filled by internal candidates as well as the percentage of middle management positions filled by internal candidates.
The number of other companies that report recruiting from the company being evaluated."
A main survey factor determined that CEOs personal involvement in a company's internal process greatly influenced the overall company ranking. This shows us that CEOs who embody culture and maintain personal staff involvement will lead the company to success. Callosum is excited to see this because we know that a company's growth is intertwined with the personal growth of leaders and executive figures. Chief Executive states, "Leading public company CEOs commit a higher priority to leadership development in spite of the added burden of more complex and 'distracting' environments with added pressures for short-term financial results." Performing as a cohesive family strengthens a company.
Looking at Chief Executive's #1 ranking, Procter & Gamble (P&G), it is clear they have been tremendously successful since their inception 174 years ago due developing strong leaders. P&G "places a rigorous process on managers to develop managers below them." By breaking the notion a company must be a hierarchy, they established brand strength at the company's heart by investing in their staff. P&G general manager college teaches values-based leadership. To the shock of outsiders you may even find Bob McDonald, CEO teaching. "It's the most valuable resource this company has," says McDonald. On January 27, 2012, Ad Age released news of Procter & Gamble cutting 1,600 jobs due to financial pressures (Full article: P&G to Cut 1,600 Job, Bank on Digital for Long-term Savings). What is your take on how this will affect the leadership of the company?
IBM, standing in 2nd place, uses constant leadership evaluation methods in order to maintain successful personal branding regardless of the economy and budget state. "Leadership competencies … are regularly evaluated to assess the leadership potential and functional skills of IBMers globally." By creating consistent evaluation plans the company can reassess the human capital and company identity.
GE annually spends approximately 1 billion dollars to train and mold future company leaders. According to GE chief learning officer, Susan Peters: "We have 13 offerings involving leadership skills that everybody should have, such as presentation skills, project management skills and understanding finance in a generic way." By investing in personal branding skills, GE aligns their business core values, cultural environment and employee actions.
"If your people grow, your company will grow." This 3M motto constantly reminds employees that leadership and growth are crucial. 3M takes the approach that executives "stay in a job for about four years in order to experience failure and sustained success." Failure is a sure fire way to force an individual to learn a lesson, create a solution and re-evaluate one's personal branding goals.
These leading companies share an understanding of staff cohesion importance. Callosum believes leadership skills are an element of a personal branding. By corporate leadership engaging in their own growth and their commitment to staff growth, a strong brand identity flows through all tiers and interactions.
What is the human differentiating factor that builds a great leader? Please voice your opinion.
Photo Credit: http://www.blogsouthwest.com/blog/southwest-pilots-volunteer-across-country-and-city-near-you