We honor the pioneers, the dreamers and the underfunded and are 100% invested in their ambitions.
Clare presents as a panelist, keynote speaker, and moderator nationwide. While engaging audiences, she combines the branding mindset with positive and strategic action to understand how to effectively brand market in a saturated, over-stimulated economy. She is known as a straight shooter with an empathetic ear for those needing answers and inspiration.
Clare is well versed in presenting in multiple formats including keynotes, interview style, panel discussion, training, live and/or virtual in our neighborhood or yours.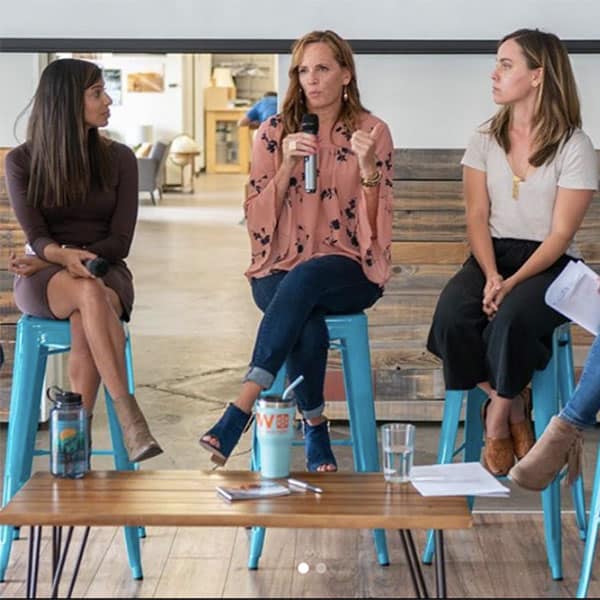 "As the keynote speaker at the Consumer Specialty Products Association's Annual meeting, Clare was a breath of fresh air. She presented "The Human Element of Branding" to a group of professionals with very different backgrounds and managed to positively impact everyone of them. Clare left each individual with extremely helpful techniques that will strengthen their ability to communicate and present themselves more effectively and professionally." Chad Moline
Topics and Talking Points
We're happy to give you examples of past client favorite session topics below and yet know Clare welcomes the mingling of topics and customization. 
Beyond Revenue: Adding Purpose To Your Brand. The low muffle is rising to a hum. Merely chasing revenue no longer cuts it. Generations now demand a giving component, a sustainable action, and a purpose-driven brand. Listen in on successful case studies, brainstorm new doing-good ideas and learn from a purpose-driven brand agency on how you can enter the world of purpose-driven by adding it to your business model. The panel will include a B-Corp brand, a purpose-driven agency, a media/pr specialist and a contract CFO. Designed for those seeking the WHY in business, seeking to conquer burnout with a purpose-driven vision.
Optimizing The Outdoors To Fuel Your Mental Health & Business. Year-round, there is a draw to be outdoors. The invitations and temptations never end unless you turn off your notifications – – and perhaps that's exactly what you should do. Let's tap into how to elevate your productivity game through a structured workplace that gives freedom to downtime. Explore stories of individuals who navigate their career jobs while optimizing time in the outdoors to feed the flow state when working. Explaining the science behind flow state offers an angle for office productivity and mental wellness.
All About Branding. An overarching interactive discussion on the 5 Ws of branding. Discover launch concepts, conflicting opinions on legal protection, and differentiating your brand. Weigh in our domestic versus global; triple bottom line versus purpose-driven. Panel will include a founder, product developer, product lawyer (patents etc), and brand strategist. Designed for the inventor, product developer and visionary seeking a birdseeye view of the elusive definition of branding.
The Human Side Of Branding.

Clare Hefferren is a pioneer in understanding the human element of branding. While engaging audiences, she combines the branding mindset with positive and strategic action to make your company's biggest investment, its staff, become its most important and impactful resource.  In these challenging times, Hefferren offers a fresh, optimistic viewpoint on achieving success and demonstrates how to reach corporate goals, improve retention and set an upward trajectory ROI by increasing the quality of leadership within an organization.

Huck Like You Mean It: Launching in the Outdoor Industry. An active lifestyle in the outdoors builds an ability to be comfortable while being uncomfortable. This risk tolerance parlays into a business. Learn from panel of outdoor industry founders as they navigate the waters of startup to emerging phase. Designed for those ready to huck the cliff with confidence. Panel will include hard and soft good brands, manufacturers, outfitters and the vendors which support them. You'll walk away with resource tips, stories of successful failures and how to create an tribe in the mix. Breathing again, you'll be ready to commit to launching your idea.
Defining Brand Values. Broken into bite-sized pieces, get a taste of how a branding agency guides clients through a Comprehensive Brand Build. Values are the cornerstone of the organization. Having them set is more than hanging the list on the wall or posting it to your website. It is the ethos of the organization that provides a litmus test for when big decisions need to be made. Is your team split on a decision? Pull out your values and see which action aligns better with your values. You'll walk away with tangible values, worksheets, and a script to get your team onboard if your organization is lacking this brand platform element. Format: Workshop or presentation. Designed for: Startup and/or an existing company who bypassed a brand build
Defining Your Brand Archetype. Broken into bite-sized pieces, get a taste of how a branding agency guides clients through a Comprehensive Brand Build. A representation a very recognizable, typical person, thing or idea. By anchoring a brand with an archetype, the consumer feels familiar with the brand on inception. Bring your brand's culture and strengths to life by uncovering its hidden archetypal values and aligning those values with your business goals. From names, taglines, and positioning, to colors, fonts and imagery make meaningful creative decisions about your brand's voice and visual elements. You'll walk away with a tangible archetype, worksheets, and a script to get your team onboard if your organization is lacking this brand platform element. Format: Workshop or presentation. Designed for: Startup and/or an existing company who bypassed a brand build