Dress Like a Power-Player
Distracted by the unkempt facial hair you struggle to listen to the rather important presentation being given by your co-worker. Human beings are naturally, and acutely, receptive at picking up stimulus cues from their surroundings. Cues being sent out generate an emotional stimulus from the receiver. The sender may control the positivity or negativity of the associated emotions. Are you sending the appropriate messages? What are the lines in your shirt saying to your future client? Are your white rounded leather shoes going to help or hurt your image?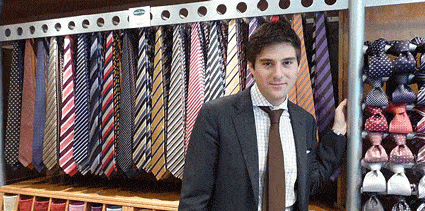 Callosum loves sharing articles that give concrete advice for quickly and dramatically improving your personal brand. In Dress Like a Power Player by LisaMarie Luccioni, adjunct professor of Communication at Univ. of Cincinnati, gives a detailed analysis in Psychology Today on the visual cues we send.
Clothing choices must be made diligently in our vast world full of color, texture, and lines. By first assessing your personal coloring in order to compliment your clothing choice, you can gain an initial understanding of what message you will be sending. "Your skin, hair, and eye tones communicate strength, softness, or a blend of the two." If you have lighter skin, and blonde hair, wearing dark colors will drastically "Yin", soften, your overall appearance. In comparison, dark hair against lighter skin will provide dramatic opposition, yang, giving a sense of power. Callosum recommends determining your intention for your audience, is it for power, or is it for welcoming and ease. Choose your wardrobe to fit the situation based on contrast.
"In American culture, the darker the color, the more authoritative you appear. Black, navy, and gray are classic standards for power dressing, but other options exist. Any color looks more powerful when "shaded" (addition of black to current hue). Hunter green, deep plum, dark brown, and burgundy also impart strength and add sartorial variety." Straight lines on garments send the image of authority and power – explaining why pinstripes are powerful.When choosing a garment, place it directly next to your face to decide if the garment will flatter or flop. The sun reflects light off your garments and on to your face. Callosums tip is to make sure your color choice makes your face look bright, not sallow. Everyone's skin tone is different so take the extra time to make sure you look fresh.
"Contrast, contrast, contrast. Pictures look better when properly framed. You do too. Attention goes to contrast and you want people noticing your face." Highlighting your face by using contrasting colors brings out your most important attributes.
What do you think is the first thing your audience notices? As Mark Twain once said, "Clothes make the man." We at Callosum believe it's hands and shoes. In an instant your audience has determined your detail to attention based on the state of your hands (nail length, cuticle, softness) and the state of your shoes (polished, contemporary, scuffed?) "The most powerful men's shoe is a leather wing-tip with a slim sole.  Often worn by bankers and lawyers, they present the most formal image." This being said, it may not always be your objective to send the message of power. At times having too many power signals can be seen as intimidating or even send the image of omnipotence.
Be aware of the context and the goal of the situation when choosing your wardrobe items. It is far easier to dress a notch above and reduce formality later, than risk being too casual and losing credibility at first impression – a very difficult misstep to regain.
Since this article was published we have seen a trend of business casual backlash as the younger generations show more interest in dressing dapper. What trends do you see?