Callosum Client: Otero Taproom
Callosum is always enthusiastic to work with new brands. When the opportunity to help Wayfinder Coop with a robust new project came up, we were up for the task. Callosum founder, Clare, was offering complimentary Branding Office Hours – much like professor office hours – to the Wayfinder members. As happens when you hang around the watercooler, or tap in their case, you hear of cool projects and are naturally top of mind when it comes to collaboration.
What is Wayfinder?
Wayfinder is a co-working space for outdoor-industry-inspired businesses and individuals. Wayfinder attracts solopreneurs and start-ups. The former warehouse space has a high ceiling and open-air seating, which leads to collaboration. When exploring business models, they settled on the co-op business model to entrench the community mindset. Always founder-led, community was central to the partners' values.
Similar to REI, Wayfinder members receive a dividend at year's end based on annual profits. This in itself creates a sense of ownership, pride, and a growth mindset – a perfect recipe for a startup. After ~ a year of the coworking space humming, the members were brainstorming on how to bring more energy, and more revenue, into the space. Thus, Otero Taproom was born.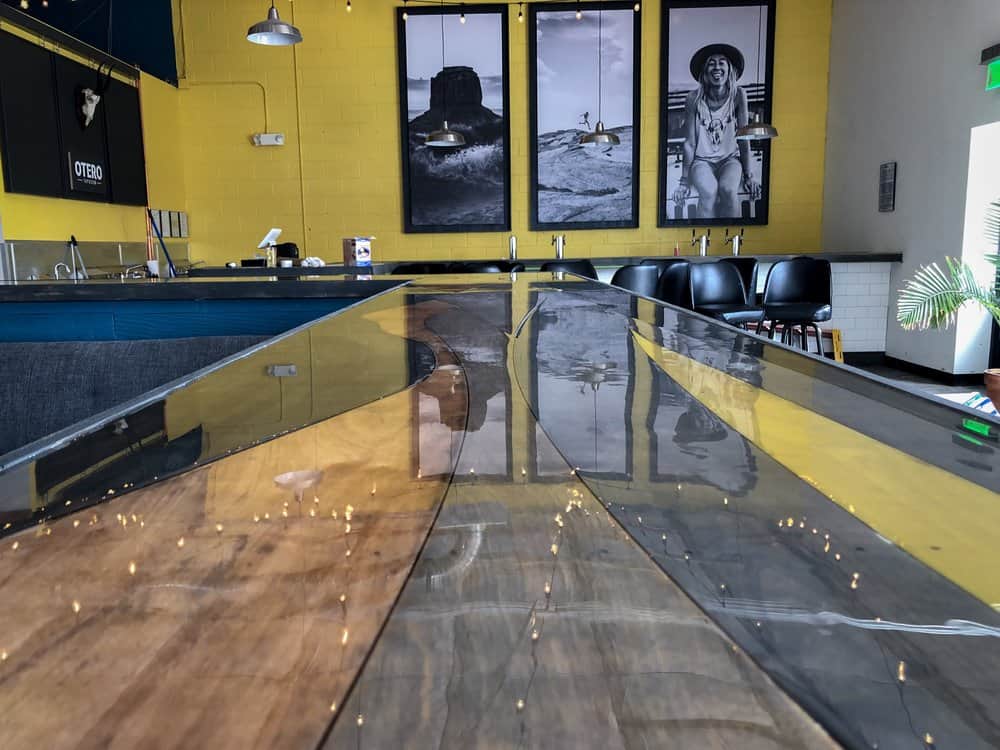 Why was Otero created?
Wayfinder added Otero at the front end of the Wayfinder co-op space as a neighborhood taproom which captures passing commuter traffic after a long day's work. And it welcomes the local neighbors on Saturday after a game of football. Not only is Otero good for a chilled beer or wine, it also raises the bar (pun intended) of the Wayfinder after hour event space. With modular walls, the space easily transitions from work to play – while the rear office space can safely continue working if needed.
To activate the space and make it more dynamic. The future of co-working is both personal & professional.

"The community – using the tap as a tool for evolving our community and bringing more people into the world of Wayfinder."

~ Britten, Partner
The Brand: Research & Development
By completing a competitor analysis, Callosum determined the best way to position the brand. Categories assessed include:
Location
Hours
Advocacy
Social/brand hashtags
Followers
About Us. Did they tell a story?
Strengths/Weaknesses
Food & Beverage
As a result of the competitive audit, target markets were identified:
Business to Business: Local businesses along Santa Fe Arts District.
Business to Consumer:

Sante Fe Arts district neighbors
Baker residents
Commuter community: Sante Fe is a major thoroughfare
1st-time guests of the coworking space
Outcome
Increased ambiance in the event space, resulted in increased event revenue
Welcomed the Baker community locals
Brought the co-op members up to the front of the space to interact with the community as bartenders
Months later, the Otero/Wayfinder partners shared that the Otero brand Callosum brand build service continues to influence their decisions. Going forward it allows them to think strategically and stay true to their core. As an example, when Otero was deciding what beers to serve to guests, they referred back to their brand build for guidance. Reviewing their values, they recalled the importance of serving the community. As a result, Joe chose to exclusively serve beer from local, Colorado-based breweries that give back through advocacy.
Right up our purpose-driven alley – atta-boys!